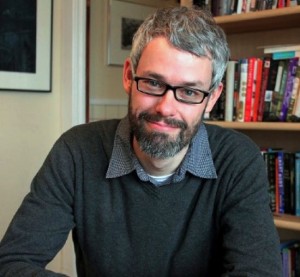 I am an environmental social scientists with a Ph.D. in Science and Technology Studies. In 2015, I joined the FracTracker Alliance—a Pittsburgh-based non-profit that produces maps, data analysis, and digital storytelling projects to communicate the impacts of global oil and gas extraction—where I am Manager of Community-Based Research & Engagement. I am also a Visiting Research Professor at the Center for Science, Technology and Society at Drexel University. In January, 2016, I was appointed to the Pennsylvania Department of Environmental Protection's Environmental Justice Advisory Board. In June, 2018, I will begin a new tenure-track faculty position at Arizona State University in the School for the Future of Innovation in Society, with a joint appointment in the School of Computing, Informatics, and Decision Systems Engineering.
Central to my research is the study of social movements in environmental science and governance, and how public engagements are shaped by the use of information technologies emerging from environmental justice discourses. My NSF-funded doctoral research, conducted from 2010-2015 at Rensselaer Polytechnic Institute, investigated the emergence of citizen science groups across the Marcellus Shale that mobilized to assess oil and gas extraction's risks to watersheds. My present work seeks to understand the social and political dynamics that make for effective research across academic, nonprofit, and community-based partnerships.
Prior to beginning doctoral studies, I was an instructor at Clark University and the Tufts University School of the Museum of Fine Arts, building and teaching courses in communications and culture, history of technology, and media studies. During this time I was also a resident caretaker for the Massachusetts Audubon Society, working on land-bank conservation projects, as well as facilitating environmental education programs with inner-city youth groups. I received an M.F.A. from the Tufts University School of the Museum of Fine Arts and a B.S. in computer science from Worcester Polytechnic Institute.
---
Newly released edited volume:
ExtrACTION: Impacts, Engagements, and Alternative Futures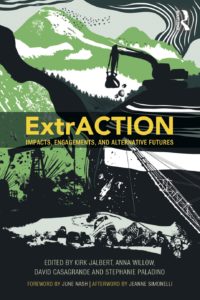 Edited by Kirk Jalbert, Anna Willow, David Casagrande, and Stephanie Paladino
Foreword by June Nash, afterword by Jeanne Simonelli
Now available from Amazon.com and Routledge.
This timely volume examines resistance to natural resource extraction from a critical ethnographic perspective. Using a range of case studies from North, Central and South America, Australia, and Central Asia, the contributors explore how and why resistance movements seek to change extraction policies, evaluating their similarities, differences, successes and failures. A range of ongoing debates concerning environmental justice, risk and disaster, sacrifice zones, and the economic cycles of boom and bust are engaged with, and the roles of governments, free markets and civil society groups re-examined. Incorporating contributions from authors in the fields of anthropology, public policy, environmental health, and community-based advocacy, ExtrACTION offers a robustly argued case for change. It will make engaging reading for academics and students in the fields of critical anthropology, public policy, and politics, as well as activists and other interested citizens.